Onward Israel Week 3 - 06/30/2017
This post first appeared on Cincy Journeys.
We have officially been living in Tel Aviv for three weeks and are loving every second of it. The group has completely adjusted to the daily life here in Israel and we are overjoyed by how lucky we are to be here this summer.
We have now completed three full weeks of work, so we are all settled in to our work places. This week, Sandra Glazer will tell us a little more about her internship and time here in Tel Aviv.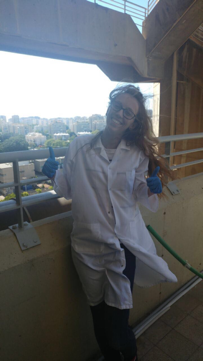 Name: Sandra Glazer
University: Miami University
Sandra is conducting research at Tel Aviv University School of Medicine in the Department of Anatomy & Anthropology. She is researching traumatic brain injuries on mice. Her responsibilities include running experiments herself, recording and analyzing data, researching and reading about traumatic brain injuries, and helping a graduate student write a review on traumatic brain injury and the weight drop model. This review is for a task called "novel object recognition", which tests the memory of the mice after the traumatic brain injury.
Sandra enjoys what she is doing because it is a chance for her to work hands-on in her field and do something new. She has never done research with animals before, so this is a chance for her to explore a different area of research. She also feels that there is a lot more independence in her work space here than what she is used to in America, which can be harder at times, but overall it is a great experience.
In the lab, she is the only intern, but she is accompanied by a lot of graduate students at Tel Aviv University, so it is a great environment and she is making a lot of great connections an friends in the process.
As for living in Tel Aviv, Sandra is taking it all in and loving it. She has explored a lot of different restaurants and areas around the city, including a free walking tour of Jaffa. Along with the rest of us, she is looking forward to the remainder of the program here in Tel Aviv.
Right: All of us dressed up as clowns at the hospital in Netanya.
This past weekend, we traveled to Netanya, Cincinnati's sister city, to stay with host families in their respective neighborhoods. The partnership that Cincinnati and Netanya shares provides the opportunity for relationships to flourish and communities to connect. After our arrival in Netanya, our group visited a local hospital where we volunteered as "medical clowns." This basically means we all dressed up in silly hats, clown noses, and various other costumes and walked around the units of the hospital visiting patients and offering our support and laughter along the way. It was a great time being silly with the group while also making a difference in these patients' lives.
After the visit to the hospital, we went to a local restaurant where we met our host families! It was fun to get to know everybody's hosts and enjoy amazing food, such as hummus and pita, pizza, and nachos.
Once the lunch was over, each host and their guests were able to explore Netanya however they wanted. Some people went to the beach, which is absolutely beautiful, some people went shopping, and others walked around the city to get to know a little bit more about the area. That night, everyone enjoyed a special Shabbat dinner at their host's house. It was so nice to eat a home cooked Shabbat meal. I know we've all missed our parent's cooking back at home since our diet here consists of either going out or making the most basic of foods at home.
The rest of the weekend in Netanya consisted of more beaching and exploring. It was a very relaxing weekend compared to the liveliness of Tel Aviv. The relationships we formed in Netanya will carry on, as my host and I already spoke about getting together again in Tel Aviv.
Left: Ilana Frankel, Hannah Wise, Andrea Goldstein, and Yael Friedstrom exploring the streets of Netanya with their host, Perri.
Once we got home on Saturday night, a few of us ventured to Dizengoff, which is a very trendy and lively neighborhood in central Tel Aviv, for some amazing sushi. We went to a place called Nini Hachi where they serve sushi donuts. It was the best of both worlds; we loved it!
Sunday marked the start of the work week and also the beginning of a lot of birthday celebrations this week! Talia Warm, Jemma Marcus-Shi, and Noah Rothchild all celebrated their birthdays this week; Mazal Tov to them!
This week we had our weekly (sometimes more) family movie night. Some of us got together at one of our apartments and watched Step Brothers, a classic comedy of our time. We shared laughs and althought were a little too squished with 13 of us in such a small space, it's always fun to get the group together.
Right: An assortment of candies at Shuk Hacarmel – so yummy!
A few of us also visited the Carmel Market this week, or as they call it here Shuk Hacarmel, where they sell everything you could ever dream of. From fake Ray Bans to fidget spinners to the freshest vegetables and fruits, they have it all. It's a really fun way to get to know the city more and explore the culture of Tel Aviv.
Left: Some of the group at Vong with Shepp and his daughter Lila.
Our last activity of this week was a dinner with Shep Englander, the CEO of the Jewish Federation of Cincinnati, and his daughter, Lila, who is in the Israeli army. We met at one of our favorite places, Vong, for a wonderful dinner and talk with them.
Once again, we had another full week and are hoping time slows down just a little!
Shavua Tov,
Yael